Introduction:
The prevalence of Analog system (giving solid cash for the purchased commodity) is still on-going, perhaps existing in digital era. Contrary to this, there is another form of high level digital transaction that is surreptitiously growing at a brisk pace. Such transactions are done through a currency named as Cryptocurrency. This blog will explain you about it, in detail.
What is Cryptocurrency?
Cryptocurrency is a decentralized digital monetary system that incorporates some unique and strong cryptographic techniques to secure and verify financial transactions. It is a digital asset that can be exchanged to work as a medium of exchange and it is very difficult to forge due to its secure nature. Cryptocurrency is totally contradictory to modern currencies (for example USD, EUR, INR). It is not regulated or controlled by central authorities like Government or Bank.
Where Cryptocurrency records are stored?
Each and every cryptocurrency transaction that happens are processed electronically. Once completed, it gets stored in a Blockchain network.
Blockchain is a decentralized network where every computer connected to the network must successfully validate and approve the transaction before it is going to be processed. Once the transaction is converted to a block and added to Blockchain, it is hard to tamper or counterfeit the data.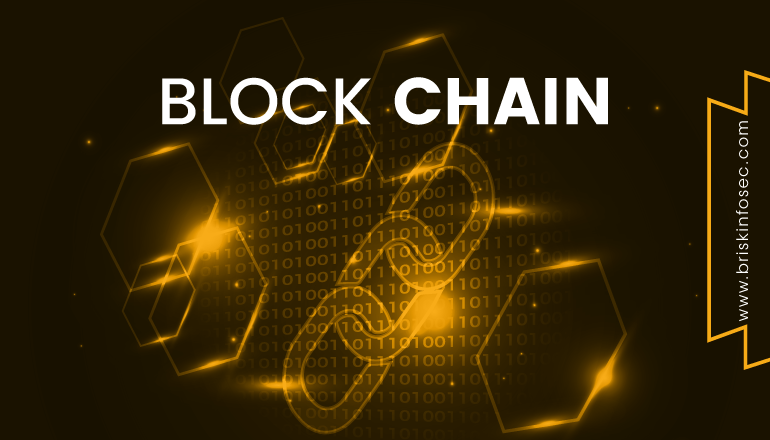 How Cryptocurrency works?
Cryptocurrencies have become well known across the world today due to the process called "Mining" or "Crypto-mining" (validating and approving cryptocurrency transactions). Mining is the process of solving a puzzle kind of mathematical computation known as "Hash" which allows the miners to add the next block to the Blockchain.
Many Miners around the globe were joined in the race against each other to be the first to solve the hash. Crypto mining consumes lot of time, expense, electricity and computer power, so for those successful "Miners", who first solves the mathematical hash will add the next block on the blockchain and claim a "Block Reward"- with a token of cryptocurrency (example Bitcoin).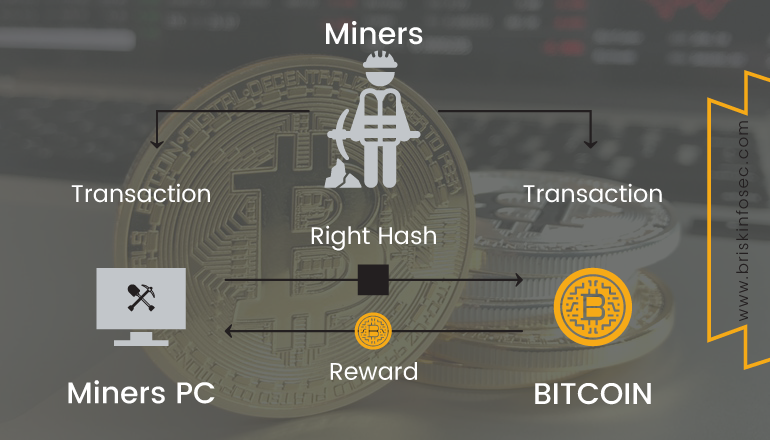 Crypto Wallet ?
Cryptocurrency is not like handling modern cash currency. You can own it but you cannot hold it in your hand. It is only stored on the Blockchain network. User can access the cryptocurrency only by means of unique digital keys. Digital key is comprised of both private and public keys. These digital keys are the address for the cryptocurrency (who procures the cryptocurrency) that links the user to the Blockchain.
To safeguard these digital keys, the user can keep it in a Cryptowallet.
There are several types of Cryptowallets available in the market. Cryptowallets are in offline, online, mobile, paper and hardware forms.
Offline Cryptowallet: It allows the user to transfer and hold the address of the Cryptocurrency and helps to link the user to the Blockchain network to track the transactions. Ex- Cryptonator
Online Cryptowallet: It is an online one, it can be accessed from anywhere in the world. The Cryptocurrency digital keys are stored online by the exchange platforms (where you can sell and buy cryptocurrencies). Ex- Coinbase, circle
Mobile Cryptowallet: Mobile wallets enables the user to store the digital keys in mobile applications in an encrypted manner and helps to make payments using user's mobile phones.
Paper Cryptowallet: Paper wallet service provides the user to store the private and public keys by generating a piece of paper with unique QR codes printed on it. It varies for each user.
Hardware Cryptowallet: It is just a hardware device (e.g. USB) that is specially meant to store the address of Cryptocurrencies.
*Note: As the Cryptocurrency is pseudonymous, the user has to keep their digital key safely. If it is lost, there is no chance to prove that it belongs to the user.
Prerequisite to Mine Cryptocurrency:
There are some basic requirements needed to start mining the Cryptocurrency.
ASIC Chip for user designed system.
Powerful Hard drives, GPU, Motherboard and processors that could efficiently mine the cryptocurrency.
An updated Mining software (for example: poclbm, phoenix miner, Diablo miner, CG miner).
A Coin wallet (if you do solo mining- If you complete a block, you'll need to store your bitcoin in a wallet).
Stable and uninterrupted Internet connection.
Most Popular Cryptocurrencies in market:
Some of the top most cryptocurrencies that sustain successfully in the market are as follows:
Bitcoin(BTC)
Ethereum (Ether)
Ripple (XRP)
Bitcoin Cash (BCH)
EOS
Cardano (ADA)
Litecoin
Stellar (XLM)
IOTA
NEO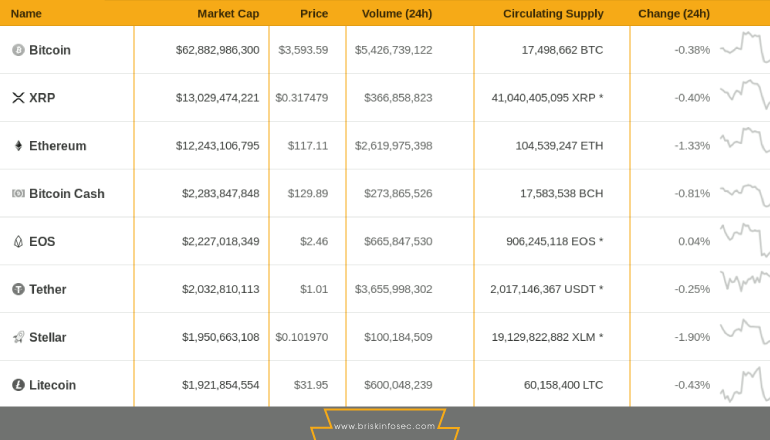 Pros of Cryptocurrency:
Cryptocurrencies lower the transaction fees by rewarding the miners.
User only has the authority over his currency alone, by providing digital keys instead of controlling by a central authority like Bank.
It protects the identity of the user by providing them pseudo anonymous identity.
Ease of access, using Cryptocurrency millions of people around the world credit and receive payment in online without going to Banks or money exchanges.
Cryptocurrency allows the user to make unlimited payments (pay using the wallet) for anyone in this world.
Cryptocurrencies are very transparent in nature, where each and every transaction records are stored on the Blockchain.
Transactions aren't defrauded and are public in nature because of the Blockchain technology.
Cryptocurrencies makes the international trading more efficient by eliminating the obstacles and by accepting payments in different currencies.
Cons of Cryptocurrency:
Lack of understanding amidst of people, about Cryptocurrency. Some people invest money on cryptocurrency without proper knowledge and lose their money on it.
Cryptocurrency is irreversible, if the user losses his wallet, he won't be able to get it back even with the help of legal assistance.
Cryptocurrencies are highly volatile in nature, so it is hard to adopt by everyone.
As it is anonymous in nature, if any Cyber breach happens it is impossible to trace and regain it.
There are lot of cryptocurrencies in the market and many new types of currencies are arriving day to day. This dilutes the interest of adopting one more than another.
Some national governments are not regulating Cryptocurrencies so it paves the way for some criminals to evade tax in under some jurisdiction.
The anonymous nature of the Cryptocurrency induces the cyber criminals to do unlawful activities. Money laundering, online drugs, arms, black-market dealings and their payments are made using bitcoin and other cryptocurrencies, to hide the identity. It is also difficult for governments to seize and track their illegal operations. Ex- "Dark web" and "Silk Road" use bitcoin for drug purchase and it was shut down on 2014.
Rise and fall of Cyrptocurrency:
Bitcoin is the primeval cryptocurrency that has been, ever since found. The value of Cryptocurrency reached to a peak of $20,000 in December 2017, this attracted a lot of investors for crypto-investments. So, there were many positive predictions over the virtual currencies and assuring the future inflation in the price of Bitcoin. But in the start of 2018, unfortunately the price of the cryptocurrency submerged and let down all the predictions. During the February beginning, the Bitcoin value had abandoned beneath $8000. Everyone was expecting the BTC to reclaim as before but it didn't happen so. As of now, it is hanging over $4000. The deflation in the price of cryptocurrency affected the investors both financially and emotionally, cautioning new investors entering in to the market. Many retail investors will get back into the field very soon, only the large scale investors who have the faith in the cryptocurrency will remain the same.
Will Cryptocurrency get dominant once again in upcoming years?
According to some analysts, the answer is a solid "yes."
Prediction of BTC value in 2019 by Analysts:
John McAfee - The founder of McAfee software has predicted that the price of Bitcoin will hit $1 million by the year 2020.
Sonny Singh - The chief commercial officer at Bitpay has predicted that BTC will reach $15,000 to $20,000.
Tom Lee - Ex-Chief Equity Strategist JP Morgan, and Co-founder and head of research of Fundstrat, says that Bitcoin will reach to a value of $36,000 and if lowers, will hit around $20,000.
Michael Novogratz - CEO of Galaxy Digital predict that Bitcoin will reach somewhere between $9000 to $10000 by the quarter of 2019.
Ronnie Moas - A cryptocurrency analyst has stated that Bitcoin will reach $28,000 by 2019.
Vinny Lingham - CEO of CIVIC doesn't agree with the prediction of Moas. He bets $20000 on BTC won't hit $28000 by 2019.
Arthur Hayes - CEO of BitMEX says that Bitcoin value will drop to $5k.
Market Predictions by the end of 2019: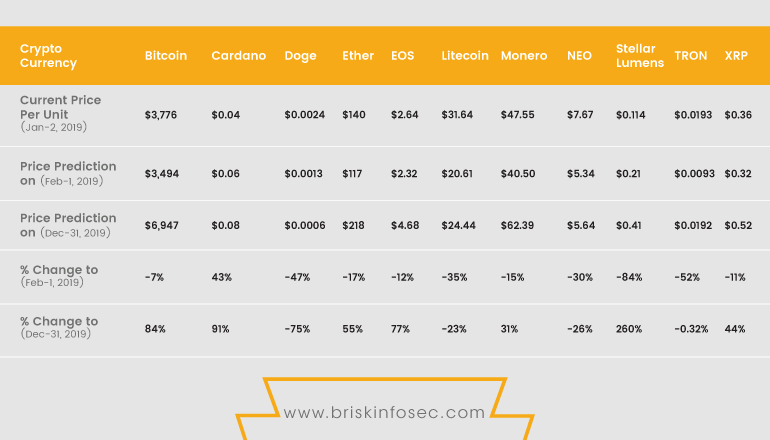 Conclusion:
We may not promise that the future will be bright for cryptocurrencies but we can at least predict that in what direction that the crypto industry will be heading, after a decade. Major prediction says that Cryptocurrency would not become a useless money but sooner or later in future it will be the major adoptable technology that drives the business towards profit step ahead in this fast growing competitive world.