We, Briskinfosec - The organization that won the "India Book of Records" as well, listed in one among the "Top 20 most promising cybersecurity solution providers", delightedly announce that we are now officially empanelled by the CERT-In (COMPUTER EMERGENCY RESPONSE TEAM – INDIA) as an information security auditing service provider.
Briskinfosec Awards and Affiliations: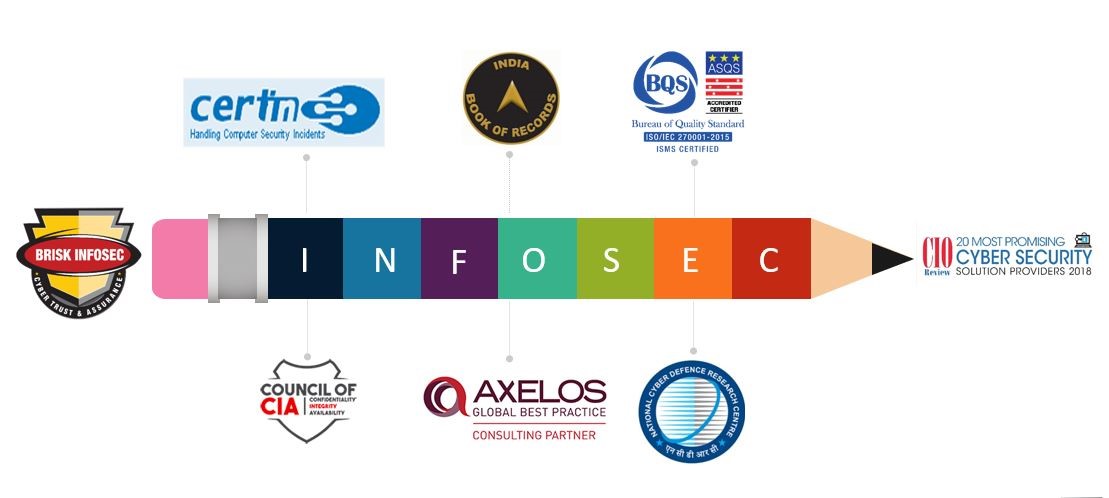 With CERT-In, Now, Briskinfosec is eligible to offer Cybersecurity Services, Solutions, and Compliance audits to both governmental and non-governmental organizations with utmost privilege and permission. With regards to this accomplishment, "We love to thank our entire team, all our partners and clients from the bottom of our heart. Only hundred among countless Indian cybersecurity firms have been empanelled with CERT-In and we're one among the hundred. This is a lucid indication of how Briskinfosec is constantly broadening its horizons."
ABOUT CERT-In:
The INDIAN COMPUTER EMERGENCY RESPONSE TEAM (CERT-In) is an initiative by the government to handle the sudden occurrence of information breaches and to contain them. In a bid to form a competent crew of security auditing organization, CERT-In has implemented a scrutinised process to assess the skill of applicants. The stages of this certification involves online practical test as well as conducting real world Vulnerability Assessment and Penetration testing on a web-server hosted by CERT-IN. To be victorious, a minimum of at least 90% vulnerabilities that are secretly lurking on the web-server, must be identified.